Get on the Nanos Omnibus – World Class Data Now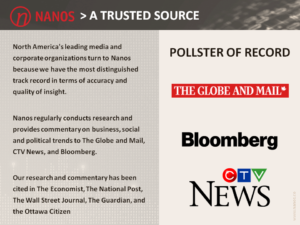 Need to track public opinion or advertising effectiveness? How about finding those elusive hot buttons? Whether you're developing a communications campaign or lobbying legislators, hire our expert team led by Nik Nanos as your trusted research partner and get world class data now.
Let's chat about your important project and get going!  Contact us for a quote now: ebossard@nanosresearch.com.
Why Nanos Research?
As the pollster of record for the Globe and Mail, CTV News and Bloomberg News – you get an expert team as your research partner.
Impact – Have Nanos on your team to support question design and how to get the  maximum impact.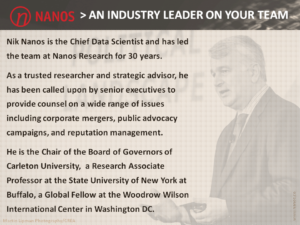 Agility – Be able to call up questions as needed, and deploy research throughout the year to support your strategy development, decision-making and impact in the public domain.
Control – Client decides which waves of research are publicly released or for internal purposes. All releases must comply with the standards set by CRIC and ESOMAR.
Our experienced researchers will work with you to develop questions and ensure that you get the results and intelligence critical for making decisions. Our analysis of your survey results will profile respondents by age, gender, income, household type and region.
Sponsoring a stand-alone national survey is not for everyone. That's why Nanos Research provides Omnibus Research Services. Clients can cost-effectively get critical data by adding questions to our regular omnibus survey and those who sign up for a one year contract can save up to 20%!